A fishing team is being rumored for the high school
Fishing teams in schools have become popular in recent years. Teams compete for state and scholarships, and students are wanting to join in the sport.
This fall, a new class Lifelong Fitness and Outdoor Activities (LLFOA) offered an opportunity for students to try their hands at fishing. Students enjoyed the unit and have bounced around the idea of LLFOA teacher Brandon Terry coaching a school fishing team. 
"I think I would be a good coach, but at the same time, I don't. I don't know anything about logistics," Terry said. "Like if it was during the winter, I probably wouldn't give up coaching wrestling to do it. I mean, fishing is not all during the winter, but it would just depend on a lot of things like that."
Terry took LLFOA to the Augusta lake to catch carp, crappie, bass, catfish, and some walleye. With a fishing team, Terry sees a disadvantage. 
"We would need the supplies to do it. A boat to go on for the team. Plus, a lot of fishing happens in the summer," Terry said.
If the school wants to put a team together, they would have to think about different ideas and ways to get what is needed to start a team. A major point to think about is tryouts for a team.
"Just think, you'd have to find people, set up different formats of who can get in, and find time for it," Terry said. "If you did a fishing club then that would be different than a team, but I don't know how it works completely."
Although Terry thought a fishing team could be difficult, junior Hayden Vittitow thinks differently. Vittitow has been a fan of fishing for most of his life. He caught his first fish when he was four years old. 
"Catching my first fish was pretty dope. I felt cool," Vittitow said. 
Fishing has some connecting and calming opportunities.
"It's a good way to hang with my family and friends. It's super relaxing and makes time well spent," Vittitow said. 
Vittitow would like to have a fishing team so he could show his skills when it comes to catching fish. He is competitive and would like to present his talent in fishing for a school sport. 
"I have plenty of fishing stuff. I like to catch bass a lot," Vittitow said. "My favorite fishing rod to use is a Medium Heavy Ugly Stik, and the bait I use most is flukes because they catch the hell out of fish."
When putting in the time to fish, patience is a major key for every person who has gone out to catch something. Sophomore Hunter Levings loves fishing and thinks a fishing team would be a great add on to get more students involved and learn patience.
"Whenever I'm fishing, of course, there are times when I just sit there waiting to feel something pull, but it's a great way to process thoughts," Levings said. 
Levings enjoys being able to be by the water and relax while he catches fish. Although fishing can be relaxing, fishing can have downfalls, too.
"I hate it when you have a big fish on and it comes off or breaks off because you spend so much time to catch them. Then all your work is gone just like that," Levings said. 
Levings prefers fishing for bass with his Abu Garcia Black Max rod because he is able to use any line he wants on it. His favorite bait to use is spinnerbait because it reminds him of one of his great memories of fishing. 
"I use spinnerbait because I caught my biggest fish with it when I used it one day," Levings said.
Levings would like to see the school create a fishing team. The team would be able to create bonds through the fishing season with each other.
"A fishing team would be great for many kids who aren't really involved in sports. People out of all kinds of cliques could make friends they wouldn't usually talk to," Levings said. "Unforgettable bonds could be made that would last a lifetime of memories for us."
About the Writer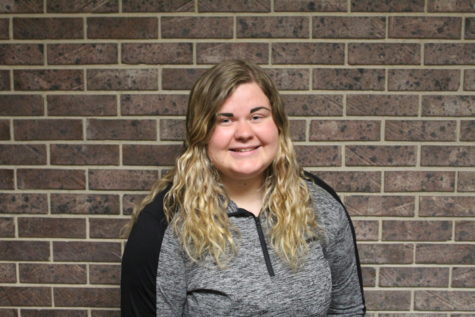 Savannah McMichael, Co-Editor
Senior Savannah McMichael is a third year reporter and first year Co-Editor on The Oriole staff. McMichael is a very enthusiastic person who tries to...