Civil War reenactor lectures American history class
A civil war reenactor taught all American history classes and fired a musket without bullets on school grounds Oct. 8.
Reenactor Jim Finneran is a retired first-class sergeant with an interest in the American Civil War.
"I have always had an interest in history. I had wanted to become a Civil War Reenactor for a long time. The opportunity came when I moved to Wichita in '95," Finneran said.
Finneran started at the 1st Kansas Volunteers for Reenactment and has portrayed many realistic events of the Civil War.
"It's a lot like being in the real army," Finneran said. "Mostly, I feel a connection to the men who fought in that bloody war. It's a way of paying my respects for their sacrifice and a way to tell their story."
Finneran accurately shows multiple characters from the Civil War through personal research. He feels a connection with each soldier he plays.
"I try to portray as close as possible what type of soldier these men were. It takes a lot of research and study of first-hand accounts and primary documents to get just the right image," Finneran said.
When Finneran spoke to students, he presented common Civil War items, like cartridge boxes, canteens and a musket that was fired outside of the school.
"I hope I was able to bring a little more insight into the world these soldiers live and died in, to put a more personal face to it if you will," Finneran said.
American history teacher Joan Reichardt has known Finneran for over 20 years.
  "Back when I first started teaching, there was another guy who came in as a reenactor. 
One time he brought this new guy with him, and [the reenactor] got another job, so Sergeant Finneran just took over," Reichardt said.
As for the firing of the musket, SRO approval was needed to allow a gun onto the school grounds.
"About the time he fired [there was] a UPS guy coming out of high school, [but] there were never any accidents. He's never shot live rounds," Reichardt said.
Finneran has to move out of state, but Reichardt believes he was a good teacher for the students.
"He is just a great guy, he handles our students very well," Reichardt said. "He's very engaging and he is just a very good presenter."
About the Contributor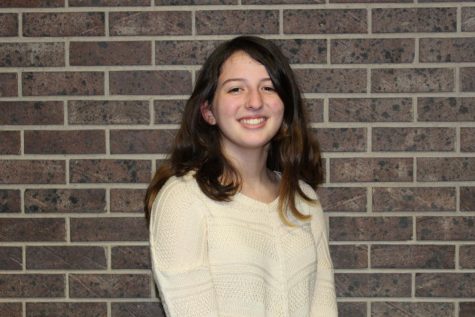 Paige Harrington, Editor-in-Chief
Paige Harrington is the 2019-2021 Editor-in-Chief of the Augusta Oriole. Outside of class, she enjoys reading journalism stories from other news sources...