Students enjoy classes with favorite teachers
Some teachers are funny, others are nice. Maybe a teacher is good at explaining class materials. Despite the different reasons most students have a favorite teacher.
Hallie Johnson's (10) favorite teacher is Brian Hallmark who taught her physical science.
"My favorite teacher is Brian Hallmark because he makes the class interesting, and he explains the class well," Johnson said.
Students have different favorites. Keelynn Barnett's (9) favorite is Spanish teacher Frank Espinoza.
"Espo is the best, because he gives us lots of breaks and it helps me learn better," Barnett said.
Espinoza is also Payton Haskell's (11) favorite teacher.
"My favorite teacher is Espo because he's funny, and I get along with him the best out of all of my teachers," Haskell said.
Zane Hennessey's (9) favorite teacher is P.E. teacher Nathan Towns.
"Nathan Towns is my favorite because he is a well respected man and a very good teacher," Hennessey said.
Hunter Anderson's (9) health teacher Cynthia Phillips is his favorite teacher.
"Phil is my favorite because she goes in-depth on a lot of funny things," Anderson said.
Multiple teachers are different students' favorites. Jakob Bergkamp's (12) Composition 2 teacher, Rebecca Timberlake is his favorite.
"Mrs. Timberlake is my favorite because she treats us like grown ups, and I can actually understand what she is teaching," Bergkamp said.
Erin Fitzpatrick's (12) favorite teacher is math teacher Jayson Schwinn.
"Mr. Schwinn is funny and keeps class interesting," Fitzpatrick said.
Math teacher Tyler Hinkle is Kennadee Dodds' (9) favorite.
"Hinkle is my favorite teacher because his class is fun and entertaining," Dodds said.
Gracyn Cody (9) also has a favorite teacher.
"Mrs. Walker is my favorite teacher," Cody said. "She is nice, and she is understandable, and she will help you any time of any day."
Despite differing teaching methods, as well as the wide variety of subjects they teach, students favor many different teachers for their own individual, significant reasons.
About the Contributor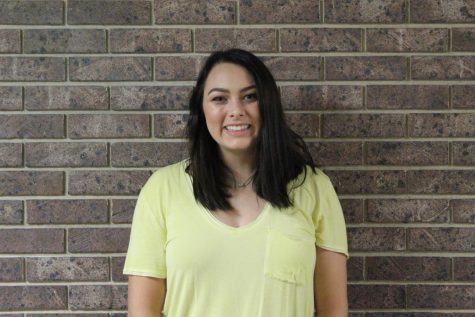 Gracie Johnston, Reporter
Gracie Johnston (12) has been a member of the staff for two years. She has been a jack-of-all trades, with experience in news, opinions and sports. Johnston...