Boys basketball wins first game of the season
Boys basketball started its season off with a 65-53 win over Mulvane Nov. 30.
"Overall, I thought the game went well; we got a lot of guys in the game; we got a lot of guys with a lot of minutes," head boys basketball coach Jake Sims said.
Before the game, only four players had experience at the varsity level.
"For seven of the guys, it was their first true varsity experience. I was pleased with the way we played," Sims said. "We made a lot of first time varsity mistakes, but overall, it was fun to watch, and fun for them to play in."
First time varsity player Ely Wilcox (10) enjoyed his playing time.
"I was excited. I was a little nervous, but after I got in there for like a minute or so, all of the nerves went away and it was just fun," Wilcox said.
Zac Burton (12) has played basketball all four years of high school.
"I love basketball, I wouldn't consider myself a baller though," Burton said.
Burton has multiple expectations for this season.
"I expect us to win a lot of games and compete," Burton said.
Multiple big plays happened in the first game of the season. One that stands out was Zach Davidson's (11) dunk.
"We just overall had some exciting plays between Zach's dunk [and] a few blocks that we had," Sims said. "Just some exciting plays that should continue to get better."
Davidson was ecstatic about his dunk.
"My dunk was great; it was really fun when everyone got really excited," Davidson said. "It honestly made me want to play just that much harder."
As a senior, Burton has a different outlook on the season.
"This season, the most important part is just having fun," Burton said.
Mulvane's game set a pace for the rest of the games this season.
"We definitely want to play an exciting style. We have got a lot of good athletes, a lot of good players, so the more possessions that we can create the better," Sims said.
Fans had a blast watching the game.
"The student section was a lot of fun. Everyone was super loud especially after Zach's dunk," Sophie Johnston (11) said. "There was also a battle between the two student sections which made the game even more interesting."
The student sections had some back and forth flirting and multiple games of rock-paper-scissors.
Players have high expectations for this season.
"I think we are going to be pretty good this year," Davidson said. "We are kind of underrated right now, but I think going into practices right now and going into games that we are going to be pretty good this year."
The team also beat Abilene 68-55 Dec. 7. Then they had a loss to Circle 51-52 Dec. 12. The next game will be played at Buhler Dec. 14.
About the Writer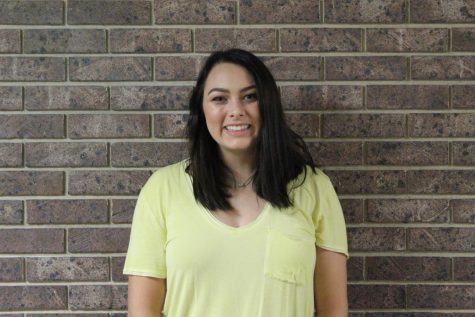 Gracie Johnston, Reporter
Gracie Johnston (12) has been a member of the staff for two years. She has been a jack-of-all trades, with experience in news, opinions and sports. Johnston...