Regier officiates for 40 years
Calling traveling, fouls, double dribbles, net violation and side outs have been a constant part of Social Studies teacher Jeff Regier's life.
Regier began refereeing (KSHAA) volleyball and basketball games 40 years ago.
He chose to start reffing because he really liked sports, and felt it was a good way to make extra cash and be involved.
"Through the years, I have officiated basketball and volleyball. In the beginning, I probably enjoyed basketball more because of my familiarity with the game," Regier said. "As I learned about volleyball, I have enjoyed it just as much as basketball."
The rules have changed over the years of his refereeing career.
"In basketball, the game has got a little rougher, so the game has had to deal with those issues. Also, the kids are a lot more athletic which has been a change," Regier said.
Many rules in volleyball have changed to be similar to the college level rules.
"In volleyball, the game has changed to keep up with the college game. Many rule changes have taken up rules to be similar with college," Regier said.
With years of experience, Regier has many words of wisdom for those wanting to become a referee.
"It is important to work as many games as possible to get your skills for officiating. It is also important for you to try to be thick skinned and don't take personally what people are yelling," Regier said.
Along with advice, certain aspects of refereeing are needed for those before, during, or after their refereeing career.
"In order to be a ref you need to register with the Kansas State High School Activities Association. There is a test and meeting that you must complete each year to be certified. It is very important to work as many games as possible and to work your way up to the level that you would be happy with," Regier said
Not only is it important for the players to practice, but it is also important for the referees.
"In today's officiating, it is important for young officials to go to clinics and camps in order to be seen by commissioners in order to get games," Regier said.
With his knee surgery Regier's future plans of reffing have changed.
"Because of my knee replacements, I have quit officiating basketball but will continue to officiate volleyball. Volleyball is a sport that is not as rough on my knees," Regier said.
About the Contributor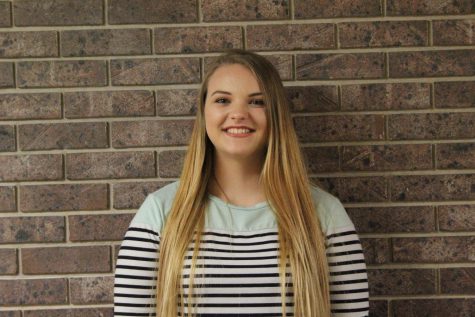 Michaela Lord, Reporter
Michaela Lord (11) is a second year staff member. Last year she wrote features, sports, and news stories. In her free time, she enjoys hanging out with...