Students welcome new English teacher to the school
A new teacher has filled the position for the English department after the former senior literature, composition and junior literature teacher, Laura Caponegro, resigned.
Before arriving at the high school Thursday, Nov. 2, English teacher Ashley Deaver taught 6th grade math at the Augusta Middle School. She enjoys all of the students in her classes and their company.
"I think they're pretty cool," Deaver said. "Most of the students want to work hard and get their stuff done."
After Caponegro left, the school needed a teacher to continue the job quickly.
"We're grateful to have her. I like her enthusiasm and her energy," principal Donna Zerr said.
Although Deaver had memorable experiences at Circle High School and Wichita South East High School, she is happy to be a part of the Augusta community.
"It's really exciting to be a teacher at the school that I went to," Deaver said. "My kids go to Augusta schools; I live in Augusta; I grew up here."
The students understand Deaver's lessons and have grown fond of her.
"She loves the kids and she loves everybody," Austin Breed (11) said.
According to Emi Bird (11), Deaver is energetic and helps students comprehend each lesson.
"I like that she is always happy," Bird said. "She's never really down at all."
The other teachers have welcomed Deaver to the school with gifts.
"On my first day, I was greeted with a plant and a box of bagels," Deaver said. "Mrs. Timberlake has been awesome for me."
Deaver hopes to have the greatest impact on her students.
"I want them to learn how to read well and write well," Deaver said. "Most importantly, I want to help them with building relationships and being able to be successful in the real world."
About the Contributor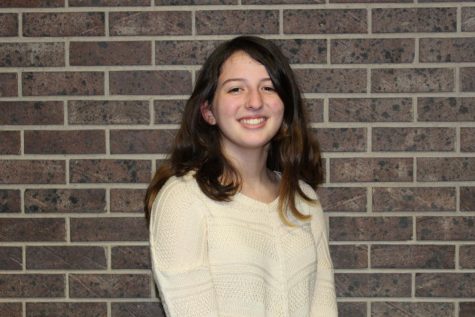 Paige Harrington, Editor-in-Chief
Paige Harrington is the 2019-2021 Editor-in-Chief of the Augusta Oriole. Outside of class, she enjoys reading journalism stories from other news sources...