Business grows from senior project
Projects  can get very busy very fast. The senior project gives students the time to show skills they acquire by learning a new topic. Whether it is learning to sew, to teach, or to bake, the project lets students grow in a topic they love and want to learn more about. 
Senior Sydney Scott took the senior project as an opportunity to work on a project that will lead her into her future of business called 'Syd's Macarons.' 
"This year, because of the project, I was able to make a business," Scott said. "I started to make macarons because I love to bake, and I felt like it would be a good idea to start up. Baking is one of those things that everyone is able to do, but I'm bringing a business into it as well."
Making a business has been a dream of Scott's since she was a child. 
"I always knew that I wanted to go into business and hopefully, one day create my own, and this project gave me that opportunity," Scott said. 
Scott's business and senior project includes selling vanilla, chocolate, strawberry and many other flavors of macarons.  Scott wanted her business to grow, so she took on social media platforms.
"I wanted to get my business out there, so I created an Instagram and Facebook for it," Scott said. "People started ordering like crazy, and just recently, I hit my 100th order. Not only are students buying them, but people around Augusta and other towns are, too."
With Scott's project taking off, she has heard nothing but positive feedback from her customers like junior Avery Williams.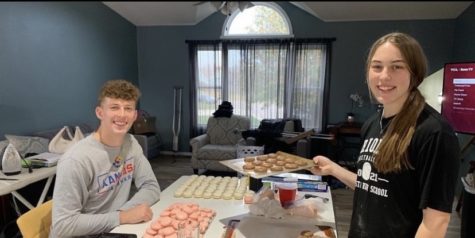 "Sydney's macarons are absolutely amazing," Williams said. "I tried a vanilla one, and I instantly fell in love. They are so sweet but also combine so well with the crispy shell around it."
With Scott's business taking off, Williams has been supportive of her friend. Williams believes Scott's senior project is a great way to start Scott off for her future. 
"When it comes to Sydney, she is always a hard worker especially when it comes to something she is passionate about," Williams said. "Anyone who knows Sydney knows she has put so much time and effort into this project. She has bought cute designed stickers for her macarons, and she lights up whenever she makes another sale."
With wintertime around the corner, Scott has added two new Christmas flavors: peppermint and hot cocoa. 
"I haven't tried the new flavors yet, but when I do, I know I won't be disappointed," Williams said. 
Just like Williams, senior Jensen Ervin cannot get enough of the treats Scott makes.
"They taste like heaven," Ervin said. "I know that the students who are doing the project are working their butts off. Sydney is doing really well with her project and I think her business could remain successful even after the project is over." 
Ervin wants to do something in business as well and has communicated to Scott about their futures and how they want to major in business marketing.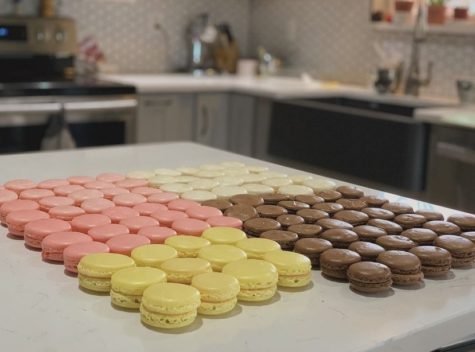 "We have talked about college many times throughout the year, and honestly, I think Sydney has a great start," Ervin said. "Making a business in high school is far from easy, especially having it as a project as well. With all the stress she has encountered, I am glad she didn't give up on herself."
Scott sells her macarons one for $3 or $2 for students. Half a dozen cost $15 and a dozen is $26.
"The price, the taste and the look are the whole package," Ervin said. "Not only is the price point a great deal, but Sydney is also making a good profit. I definitely will buy more from her, they are amazing and everyone should try them.