Traditions prepare students for end of year
In the last month of school, students are ready to wind down and celebrate the final stretch of the year. Parties are held, seniors prepare for their final days of high school, and everyone becomes excited for annual traditions. 
Band plays traditional song at final concert
As part of the 64th annual Band-O-Rama, the Oriole Band played a traditional song called "Fidgets" written by band director Todd Hollis. During the tune, band members from all grade levels have the opportunity to play together as one band.
"Fidgets is a song that is very near and dear to my heart as a trombone player," sophomore Ellison Whitlow said. "It's the last one we [play] and everyone does it; elementary school, middle school, high school. It's very simple; everyone loves it; it's always an audience favorite. However, the older you get, the less you like it."
While the song can become boring after playing for several years, the reactions of the fifth graders are different.
"The fifth graders just die; they think it's the end of the world, the best thing that ever happened to them in their entire life, so every single fifth grader is excited about that," band director James Hollingsworth said. "A high schooler may be less so, but they're going to remember it later."
Nt all high school students dislike the song.
"I like Band-O-Rama, that's pretty much my favorite end of the year tradition we do," sophomore Braden Nold said. "I think it's a fun song, it's easy enough for the fifth graders to do it, but also hard enough for the high schoolers to have fun with it too."
Most band students agree, as unpopular as "Fidgets" can feel at times, it would feel wrong not to play it.
"I would say change 'Fidgets', but that feels like a crime, that feels like it shouldn't be allowed," Whitlow said. "It's as good as it's going to get."
Seniors enjoy a day to skip classes
Although it is not authorized by the school, most seniors plan a day to completely ditch school. Whether their parents call in to excuse them or they just do not show up, most of the senior class looks forward to the day.
"I like the senior skip day most," senior Duke Lichlyter said. "I can't really participate in the full day because I am in a sport right now, so I have to be there for half the day."
Out of all the senior traditions, the skip day is one of the most popular.
"It's really just skipping school and doing your own stuff," senior Andy Lin said. "As long as you have your grades up it's fine," 
In some schools, the skip day is a school sponsored event in which every senior takes part in.
"I wish that it was actually a school thing they put together for senior skip day and stuff like that," senior Brendon Parker said. "It would just be a lot easier and then people wouldn't be getting in trouble for it."
Letters to senior selves bring up emotions
At the end of each student's freshman year, their English teacher assigned them to write a letter addressed to their senior self.
"There's such anticipation and build up, the seniors can't wait to get those letters back," English teacher Becky Timberlake said. "They read through and laugh at how silly they were or things they thought important that really weren't important at all."
Seniors are not given their letters again until May of their senior year.
"I'm kind of afraid to read it," senior Grace Wright said. "I don't remember what I was like my freshman year."
After four years, most students forget what they wrote in their own letter and are able to see how much they have changed.
"They really get a chance to see how far they've grown and how far they've come," Timberlake said. "Sometimes, they share their letters with each other, and sometimes, they've written things that are so personal that they don't want to share it with anyone at all."
Annual traditions mark end of the year
 All of the different clubs, groups and classes throughout the school have end of the year traditions unique to them. From zoo trips, to celebrations, to awards every student has an opportunity to participate in a tradition.
"We make ice cream and s'mores in chemistry," chemistry teacher Erika Richardson said. "It's just something fun after we worked really hard during the year; it just gives us some fun to look forward to."
Some traditions just include receiving and signing senior yearbooks.
"The yearbook and the quotes," Lin said. "I think people will be writing some pretty funny posts on it, I'm looking forward to reading it."
A lot of senior traditions rely on living in Augusta for an extended period of time, including the elementary walk-throughs.
"I love the senior tradition of getting to go back to their elementary school," Timberlake said. "I think this is the third time they've done it, but I actually helped get it rolling for the first year, so it's been really special to me."
National Honor Society started Senior Send-off gifts under Richardson's sponsorship.
"I don't know if it was done before; I used to do it eight years ago," Richardson said. "It's just a junior giving a senior a going away present."
Even English classes have special traditions to celebrate the seniors.
"I have some children's books that we end with," Timberlake said. "You start your educational career being read to and sitting around the teacher, so I think ending that way is really cool. Sometimes, I'll have kids that get a little teary eyed, and they're like 'Wow, this is really happening.'"
Overall, Augusta includes multitudes of traditions which have been around for years.
"I've been to schools that the traditions are five years old, or the traditions are two years old, or I've had to start new traditions," Hollingsworth said. "I don't have to start any new traditions, they're already here."
About the Contributor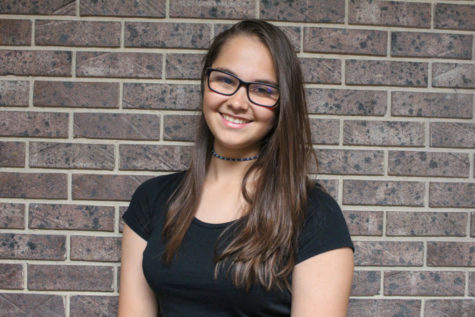 Savannah Athy-Sedbrook, Editor-in-Chief
Senior Savannah Athy-Sedbrook is a fourth-year reporter for The Oriole. She can often be found running around during ace to complete stories, as well as...