Student Press Freedom Day 2020
The Hazelwood v. Kuhlmeier Supreme Court decision was made 32 years ago, Jan. 29, 1988; a decision that changed the balance of student press laws. 
Student Press Freedom Day is a national day designated to recognizes the work of student journalists that marks the anniversary of the Hazelwood decision and brings the spotlight onto student journalism.
Without the laws that this case put in place, journalism for Kansas schools would not be successful. The Hazelwood case gave administrators control over what students wrote in the newspaper. Kansas advisers thought students deserved and could handle the freedom to control their own content. In response to this case, the Kansas Student Publications Act, which protects the First Amendment for student journalists, was passed by state lawmakers in 1992.
 "Our publications wouldn't have the freedom it does now and our staff wouldn't have grown the way it has," Oriole Newspaper reporter Maegan Morrison said.
Kansas passed its laws 27 years ago, but 14 other states are working on the New Voices legislation in order to get the same laws for their student journalists. Currently, student journalists in 36 states do not have the opportunities for their opinion, news, sports, and feature stories to be out there without being censored.
¨I don't think anyone should be afraid to speak up and say what's on their mind." Oriole Newspaper reporter Savannah Athy-Sedbrook said. "No one needs to be afraid to make a change in a safe way."
Student journalists cover topics in various ranges, if something they think students would like to know, we talk about it. In addition to the work we put in during school, hours are put behind the stories written and pages designed outside of school.
¨We do a lot of hard work that people don't exactly see and if more people knew about this day, maybe they'd think about what we really are about,̈  Augustan Yearbook reporter Haley Smith said.
About the Contributor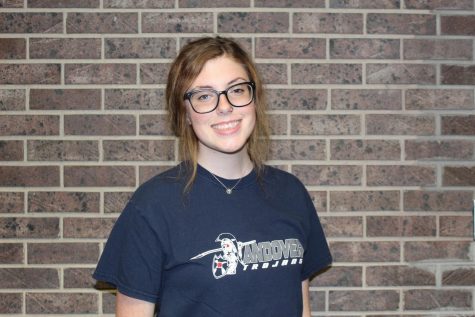 Emma Stueven, Reporter
Junior Emma Stueven is a second year reporter on The Oriole. Stueven is determined and wants to make the most out of her high school years. Outside of...